New Movement Powered By EHS
We are excited to announce the launching of The MIND MOVEMENT! This movement aims to go beyond mental illness and acknowledge something we all have; Mental Health. We aim to encourage people to tend their mental health in the same attention we give out physical health.
How our culture and specifically the entertainment industry views self-care and mental wellness is often problematic, and we are striving to address that problem at the roots through the efforts of the M.I.N.D. Movement.
Learn more at www.mindmvt.com
EHS Conducts Pivotal Mental Health Research
EHS president, Elizabeth Porter, with Centricity Music's John Mays (left) and Christian Music Artist, Jason Gray (right); during interview for upcoming article "Entertaining the Critics".
June Spotlight Interview- Anna M'Queen
June 14, 2017
Make sure to check out EHS' recent interview with Nashville's very own Anna M'Queen!
EHS is excited to be a sponsor for this great @centerstagemagazine event! Amazing lineup and for 4 fantastic charities (@americancancersociety @autismspeaks @heartsongs4vets @crohnscolitisfoundation )! June 8-11 @alleytaps during #cmafest to highlight some of Nashville's great #indiemusic ! #nashville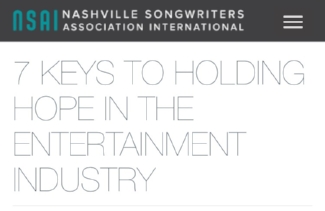 Holding Hope in the Entertainment Industry